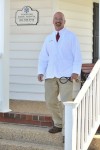 Ok, so this proves that even "old dogs" can learn new tricks. Never thought I would be blogging but here goes.
A lot of people have asked how I came to be the "new Vet" at Powhatan Animal Hospital. I am originally from Matoaca, Virginia. I received my BS in Biochemistry from Virginia Tech and Veterinary Degree from the University of Georgia. Over the years I have owned veterinary hospitals, done consulting with veterinary hospitals, and was east coast group vice president for a veterinary corporation. I love veterinary medicine and running veterinary hospitals.
A couple of years ago I sold my practice and I semi-retired. I traveled, golfed, field trialed my beagles, and basically goofed off. By last summer I found I really missed seeing patients and owning a veterinary hospital and started looking for one. At the end of the summer I received an e-mail from a veterinary broker telling me that Powhatan Animal Hospital was for sale. I set up a meeting with Dr. Larrick and when I met him I was immediately impressed with both Dr. Larrick and Powhatan Animal Hospital. I like working in busy hospitals and like providing quality veterinary care in as affordable manner as possible and that is what Dr. Larrick had been doing for years.
I knew from the start that it would not be easy. Dr. Larrick had founded the hospital and many clients and staff had been with him for over 20 years. Having a beloved founder leave is extremely difficult and I feared many, if not all staff would leave. I discussed these fears with Dr. Larrick and he felt even though it would be difficult that most would stay. Over the next few months we reached an agreement and on March 2, 2015 Dr. Larrick retired and I started.
I was very apprehensive, and the first few months were not easy. Not all staff stayed, it would have been unrealistic to expect that, but the majority did stay.
Eight previous employees are still with us. Of all the doctors I have ever worked with, Dr. Menasco and Dr. Creasey are two of the best. Diana is amazing and in a class all to herself. Rachel is outstanding, a truly great receptionist. Elizabeth is a top-notch receptionist. Julie is a wealth of knowledge and as good a veterinary assistant as you will ever meet. Theresa is studying to be a Licensed Veterinary Technician and will be a great one. Stacy is a caring and dedicated veterinary assistant. You might not recognize their faces, or realize that they have been at Powhatan Animal Hospital for years but these folks have worked hard and do a great job. I am very grateful for every one of them.
We also have added a significant number of new staff as we have expanded doctor's hours. Most of these new folks had worked with us in the past and they are all excellent. Go to our website to read about each of them.
Since March 2 we have been very busy. A few of the things we have added are a new dental unit, new anesthesia machines, new digital x-ray unit, new in house laboratory, recovery cages for pets, new IV fluid pumps, new heating pads, and a new website. We have extended doctor's hours and our doctors have all made a commitment to always make space for your sick pet during normal business hours, no matter how busy we are. We are remodeling the building next door and hope to have grooming available by the end of June. Inside the hospital, we are painting, putting down new floor, and remodeling. We will continue to expand hours and hope to have earlier dropoffs available in the near future. Eventually we even hope to have some hours on Sunday for pets that get sick or hurt over the weekend. We have worked on ways to limit client waiting times and treating pets in the treatment room instead of in the exam room has helped a lot. We continue to grow and hope to add three more exam rooms this winter.
This much change in a short time has been difficult, but I could not be happier with our team, our clients, or my decision to purchase Powhatan Animal Hospital.
I am very thankful to Dr. Larrick for giving me this opportunity.
We are 100% committed to providing the best veterinary care we can in as affordable and convenient manner as possible.
Thank all of you for your support.
Sincerely,
Randy Pinkleton, DVM