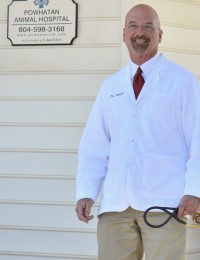 Veterinarian, Owner
Education: University of Georgia and Virginia Tech
Hometown: Matoaca, Virginia
Pets: Rock (Boston Terrier), Boss (Rottweiller), Sparky and Lilly (Chihuahuas), too many beagles to name, Muffin (Cockatiel), and Copper (Abyssinian kitty who lived to be almost 22, now passed but still fondly remembered).
Dr. Pinkleton purchased Powhatan Animal Hospital on March 2, 2015 when Dr. Stephan Larrick, Powhatan Animal Hospital founder, retired. Prior to purchasing Powhatan Animal Hospital, Dr. Pinkleton founded and owned his own hospitals, consulted with animal hospitals, and served as East Coast Group Vice President for Veterinary Centers or America. Dr. Pinkleton also was appointed to the Virginia Board of Veterinary Medicine for two separate four year terms by two different Virginia Governors and was elected President of the Board of Veterinary Medicine twice. Dr. Pinkleton purchased Powhatan Animal Hospital because he missed seeing patients and taking care of pets and wanted to have a quality hospital where he could build a strong pet health care team and see patients for the rest of his career. He enjoys performing surgeries and seeing pets and looks forward to many years of serving the Powhatan community.
Dr. Pinkleton's hobbies include training beagles, hiking (most challenging being Kilimanjaro Lomosho route), golf (but not a good golfer), surfing (novice), scuba (novice), and other outdoor activities.